Page 5 of 16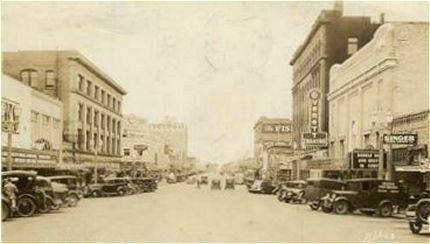 The Ascending Silver Screen
Movies became a part of the theater's fare at an early date. The first film attraction was a feature newsreel of a prize fight presented in February of 1906. Because of the primitive machinery and highly flammable film, movies were considered risky business. A jury-rigged projector and screen were set up in spite of objections from the theater's insurance agent. Though spared a fire, the management was humiliated by the failure of the projection machine just before the knockout. In 1909 another attempt was made to screen movies at the Everett- this time the insurance company's protestations caused the show to be cancelled.
Almost four years elapsed before the theater management tried again. Late in February of 1913 footage of the Pendelton Rodeo received enthusiastic audience response. That spring Lubin and Kalem productions were shown and in the fall Edison productions were booked for a three day stint.
The following year there were no less than eight film bookings, including a documentary on Antarctica with live narration and an early attempt at synchronized sound featuring Scot comic Harry Lauder. In May a series of vaudeville shows used short film chasers to close each performance.
But the watershed year for local cinema proved to be 1916. Late in June the Everett Theatre exhibited D.W. Griffith's "The Birth of a Nation," an historical extravaganza so popular that it was brought back at the end of the year for a return engagement. A second blockbuster, the Thomas Ince film "Civilization", followed in September. These features provided powerful evidence that movies were no longer mere novelties but had become major attractions in their own right.
In 1918 the Everett Theatre was leased by former grocer Charles Swanson. Movies were eclipsing vaudeville and stock, so Swanson had the old proscenium boxes boarded up, the angle being too steep for decent movie viewing, and from August of 1918 the theater served principally as a movie house. Celluloid images of Theda Bara, Douglas Fairbanks, John Barrymore, Mary Pickford, Charles Chaplin and Dorothy Gish supplanted most of the live acts. The following year Swanson incorporated the Star Amusement Company and the Everett Theatre became part of his near-monopoly of local theaters.
One of the early film offerings after the change-over was Paramount's "Riddle Gawne", a western starring William S. Hart, who had appeared in person ten years before as "The Virginian." Many famous personalities who played the theater as live acts in earlier days returned during the Star Amusement era, but they were almost always on the screen instead of on stage.
When a celebrity did arrive in the flesh, his reputation was often the product of his film career. Character actor Henry B. Walthall was a respected representative of the legitimate stage, but most of the Everett audience for his live performance in Ibsen's "Ghosts" in 1920 remembered him as "The Little Colonel" from Griffith's "Birth of a Nation" four years earlier. A visitor the following year was handsome screen star Wallace Reid, a box-office idol created on the clean-cut American boy formula who was soon to die from the ravages of drug addiction.
Live entertainment gradually disappeared from the stages of local theaters. Vaudeville eclipsed stock and the motion picture novelties that were initially little more than chasers on vaudeville bills grew into feature films that crowded live acts from the stage. During the first three years of its existence, the Everett Theatre had operated between 60 and 80 days each year, offering mostly road shows. This schedule increased to an average of 132 days per year between 1905 and 1911, when stock companies were prominently featured as a backup to road shows. Thereafter, yearly use dropped to about 50 days until Swanson introduced his heavy schedule of movie bookings. In 1919 the theater was open 362 days, showing film 347 of those days. Each film cost less than a live show to present and movies often drew crowds comparable to the most successful live attractions.