Page 8 of 16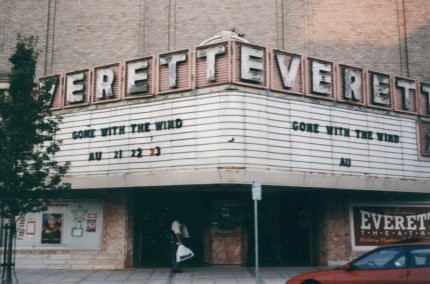 In 1929, Fox acquired the theater, and continued to run it into the 1950's. 
In April of 1929 control of the city's six movie houses, including the Everett Theatre, passed from the Star Amusement Company to Fox West Coast Theaters, Inc., part of the nationwide chain of entrepreneur William Fox. Charles A. Swanson, former president of Star Amusement, stayed on as local executive while the new proprietors invested $55,000 in a renovation and remodel project that included a vertical electric sign for the northwest corner and installation of a Fox Movietone sound system. The "Fox Everett Theatre" was thrown open to the public on October 23rd, 1929.
That reopening took place on the Wednesday before "Black Thursday," the day of the Wall Street Crash. Fox's financial fortunes slid from bad to worse and in the spring of 1933 "Fox" disappeared from the theater's facade. With the other survivors, the Granada and the Balboa, it became part of the newly formed Everett Theatres Company. Swanson served briefly as vice president of this organization before returning to the grocery business from whence he had come. Plagued by business troubles, he took his own life in 1937, a newspaper obituary describing him as the man who once "owned all the theaters in Everett."
Shortly after the Fox sign came down a new, more contemporary marquee went up, with a reader board extending along most of its length. This slender band with its myriad lights was surmounted by a bright, simple sign identifying the theater as "The EVERETT."
An enduring fixture from the Fox era proved to be manager William H. Hartford, who was destined to serve in that capacity at the Everett Theater for almost twenty years. Brought to Everett from Bellingham, where he had been operating Fox chain theaters, Hartford once served as manager of Seattle's Orpheum Theatre. His tenure at the Everett from 1929 through 1948 was easily the longest in the theater's history.